HAVE YOU GOT DRY, OILY, SENSITIVE OR IRRITATED SCALP?
Now you need not worry anymore, because the nourishing formula in our hair oil provides your hair with all the necessary active ingredients and so restores the the scalp's natural pH balance. If your hair or scalp is too dry or you have dandruff, your hair will be substantially more hydrated and with less dandruff after only a few uses of this oil.
If your scalp gets oily too quickly, the active ingredients will provide it with regulation of oil production in hair follicles. As a consequence, your hair and scalp will restore natural pH and your hair will not get so oily.
Appropriate care and balancing pH level is even more important with sensitive and irritated scalp, which you can reach with regular use of this oil. Not only will you reduce itchiness, but your hair will be hydrated and abundantly nourished from the inside out.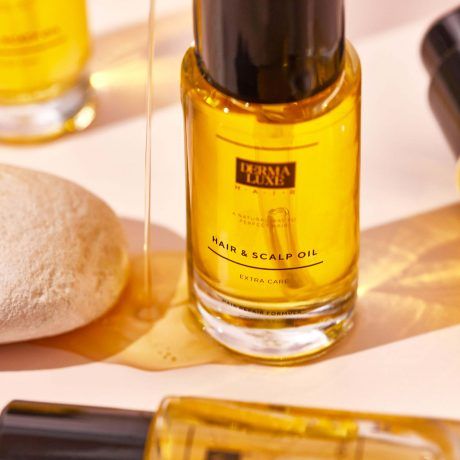 AN EXTRAORDINARY COMBINATION OF JOJOBA, COCONUT, ARGAN AND OLIVE OILS AND VITAMIN E
Jojoba oil (Simmondsia Chinensis) is rich invitamin E and works as an antioxidant. Due to its anti-inflammatory properties and balancing pH level of the skin, it is suitable for dry and also oily or normal scalp. Jojoba oil slows down ageing and deeply nourishes your hair. It prevents hair ends from drying. It retains moisture and protects your hair from harmful external factors. Jojoba oil is known for its healing properties that treat scalp and damaged hair. As it is very similar to the oil which is secreted from our skin, it is very gentle and suitable for brittle and dry hair and scalp treatment.
Argan oil (Argania Spinosa) is appropriate for all hair types, it is especially beneficent for dry and damaged hair and scalp, prone to itchiness Because it is abundant in vitamin E, it helps your hair and scalp to regenerate more quickly and protects them from harmful external factors. Argan oil softens and hydrates your hair, strengthens it and restores its youthful elasticity
Coconut oil (Cocos Nucifera (Coconut) Oil) maintains smooth, soft and intensely hydrated hair. It is abundant in vitamins A, B and E as well and these protect your hair from harmful external factors that cause premature ageing of your hair. Coconut oil also regenerates your hair structure by filling the outer layers and so smooths and strengthens it. By reaching deeper levels, it also strengthens and deeply regenerates your hair.
Olive oilis well-known for its beneficient effects on hair and scalp. It can remove dandruff, because it hydrates the scalp, helps tame split ends and also strengthens hair structure due to vitamins A and E.
Vitamin E works as an antioxidant, because it protects unsaturated fatty acids from oxidation. It helps protect your hair and scalp from free radicals and maintains healthy balance in your scalp. It absorbed deeply in the cells, it hydrates and soothes irritated scalp.
USE
Massage the oil with gentle circular motions on the whole scalp area for 10 to 15 minutes. Also apply the oil evenly on the whole hair length and ends as well. Leave to work for at least 15 minutes, but we recommend you leave it on your hair and scalp overnight. Apply shampoo and wash thoroughly with water.