GENTLE YET EFFECTIVE CONDITIONER, WHICH HELPS HAIR MAINTAIN ITS ELASTICITY, VOLUME AND SILKY SMOOTHNESS
Derma-Luxehair hair conditioner contains coconut oil, which is full of saturated fatty acids, so it can be absorbed in your hair much deeper and quicker than any other conditioner. It also contains very nourishing jojoba oil, which effectively prevents hair ends from drying. Derma-Luxehair conditioner brings back radiance to your hair, softens, hydrates and nourishes your hair all to the hair roots. Your hair will be visibly invigorated and fuller.
ITS BIODEGRADABLE INGREDIENTS MAKE THE CONDITIONER GENTLE TO YOUR HAIR AND NATURE
All the ingredients, used in Derma-Luxehair conditioner are gentle to the scalp and hair and guarantee softness and silky feeling. Due to the selected ingredients our conditioner can be easily washed out and gives your hair a long-lasting feeling of hydration. After applying the conditioner, combing wet hair is easy and without uncomfortable painful detangling, due to the extremely nourishing ingredients. Derma-Luxehair conditioner reduces uncomfortable static hair and makes your hair visibly fuller and restored even after the first use.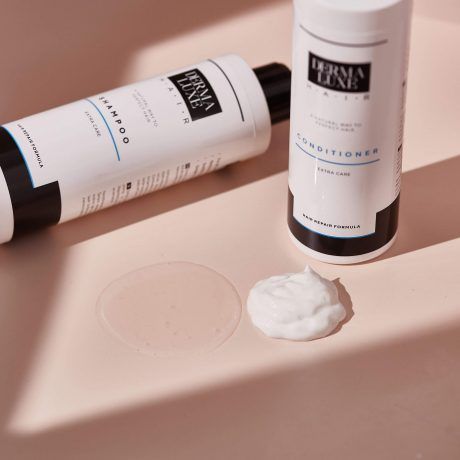 FIRST AID FOR DAMAGED ENDS – VISIBLY EFFECTIVE ALREADY AFTER THE FIRST USE
Derma-Luxehair conditioner has a unique advantage, as it creates a protective layer on hair ends. It fills hair structure by sealing the damage parts of your hair surface. Because of this the hair is supple, fuller, easier to comb and hair ends are healthy and radiant.
Vitamin B5works directly on the hair structure, prevents hair ends from breakage and splitting and also provides your hair with extreme radiance.
A UNIQUE COMBINATION OF TWO NATURAL OILS AND VITAMIN B5 FOR DEEPLY REGENERATED HAIR
Coconut oil (Cocos Nucifera (Coconut) maintains smooth, soft and intensely hydrated hair. It is abundant in vitamins A, B and E as well and these protect your hair from harmful external factors that cause premature ageing of your hair. Coconut oil also regenerates your hair structure by filling the outer layers and so smooths and strengthens it. By reaching deeper levels, it also strengthens and deeply regenerates your hair.
Jojoba oil (Simmondsia Chinensis) is rich invitamin E and works as an antioxidant. It is very similar to skin sebum, which is our skin's natural secretion and so it does not make your hair greasy and is thus excellent for oily scalp as well. Jojoba oil slows down ageing and deeply nourishes your hair. It prevents hair ends from drying.
Vitamin B5 is exceptional at retaining moisture. It prevents dehydration of your hair. With regular use, your hair will be more elastic, which means that it will not break or split while combing. Vitamin B5 gives your hair marvellous radiance and smooths them wonderfully.
USE
Massage the conditioner gently into wet hair, after you have washed it with the shampoo and leave in to work for a short time. Then wash your hair thoroughly with lukewarm water. Be careful not to get it in your eyes. The conditioner is suitable for all hair types.